If you are looking to enter the exciting world of penny stocks, you've come to the right place! Penny stocks are low-priced, speculative securities that can offer substantial returns for investors. However, they also come with significant risks. In this article, we will guide you through the ins and outs of penny stocks, where to buy them, and essential tips to get started.
Understanding Penny Stocks
What Are Penny Stocks?
Penny stocks are shares of small companies with low market capitalization, typically trading at a price per share of less than $5. These stocks are often associated with emerging companies, startups, or firms facing financial difficulties.
While they can be appealing due to their low cost and potential for high returns, they also carry a higher risk of volatility and lack of liquidity.
Pros and Cons of Investing in Penny Stocks
Before diving into the world of penny stocks, it's essential to weigh the advantages and disadvantages. Some pros include the potential for rapid gains, low entry barriers, and the opportunity to invest in promising companies at an early stage.
However, the cons include susceptibility to scams, market manipulation, and the risk of losing a substantial portion of your investment.
Research and Due Diligence
Analyzing Penny Stocks Companies
When considering investing in penny stocks, conducting thorough research is crucial. Start by analyzing the company's financial health, management team, and growth potential. Look for companies with a clear business plan, innovative products or services, and a strong competitive advantage in their industry.
Evaluating Financials and Performance
Examine the company's financial statements to assess its revenue, expenses, and profitability trends. Check for any outstanding debt or liabilities that may pose a risk to the company's stability. Additionally, consider the company's historical stock performance and trading volume.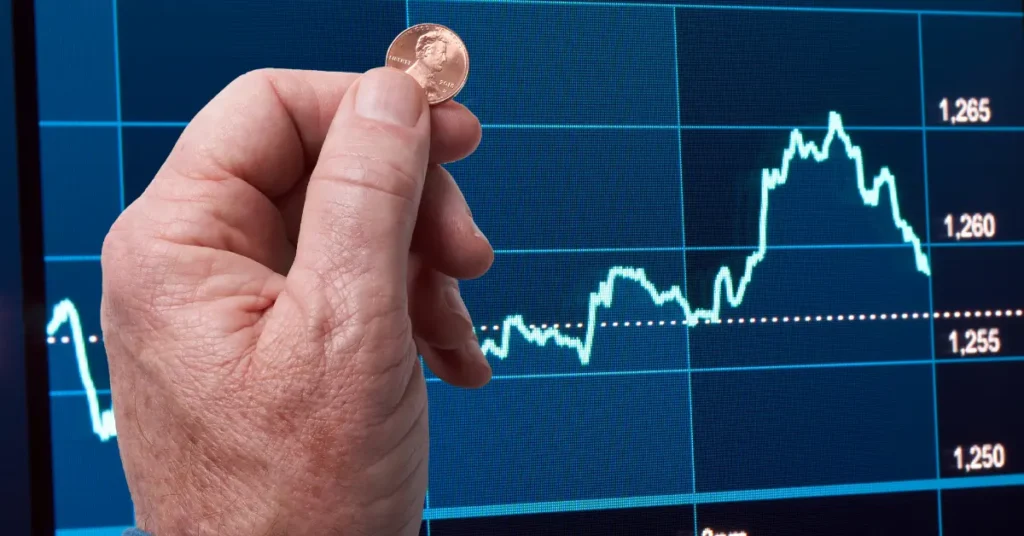 Selecting the Right Brokerage
Features to Consider in a Penny Stock Broker
Choosing the right brokerage can significantly impact your penny stock trading experience. Look for brokers that offer competitive commission rates, user-friendly trading platforms, real-time data, and research tools specific to penny stocks.
Setting Up Your Trading Account
Opening an Account with Your Chosen Broker
Once you've selected a brokerage, follow their account opening process. This will typically involve providing personal information and verifying your identity.
Funding Your Account Securely
Depositing funds into your trading account is the next step. Opt for secure payment methods, such as bank transfers or electronic wallets, to ensure a smooth and safe transaction.
Strategies for Success
Technical Analysis for Penny Stocks
Technical analysis involves studying past market data, primarily price and volume, to forecast future stock movements. Use charts and indicators to identify trends and potential entry and exit points for your penny stock trades.
Fundamental Analysis for Penny Stocks
Fundamental analysis focuses on a company's financials, management, industry position, and overall potential for growth. Combine this with technical analysis to make well-informed investment decisions.
Diversification and Risk Management
Spreading Your Investments Wisely
Avoid putting all your money into a single penny stock. Diversify your portfolio across different companies and industries to mitigate risk.
Setting Stop-Loss Orders
Protect your investments by setting stop-loss orders. These orders automatically sell your shares if the stock price drops to a predetermined level, limiting potential losses.
Trading Tools and Resources
Stock Screeners
Stock screeners help you filter through a vast number of penny stocks to find the ones that match your criteria. Use specific parameters to narrow down your options effectively.
Penny Stock Newsletters
Subscribe to reputable penny stock newsletters to stay informed about market trends, new investment opportunities, and expert insights.
Learning from Experienced Investors
Following Successful Penny Stock Traders
Learn from experienced investors who have a proven track record in penny stock trading. Observe their strategies and decision-making processes.
Joining Online Investment Communities
Engage with online communities dedicated to penny stock investing. These forums can provide valuable insights, tips, and support for beginners.
Avoiding Scams and Pump-and-Dump Schemes
Identifying Red Flags
Be cautious of unsolicited investment advice, high-pressure sales tactics, and promises of guaranteed returns. These are often signs of potential scams.
Staying Away from Unreliable Sources
Rely on reputable financial websites, news outlets, and verified analysts for accurate information. Avoid making decisions based on rumors or hearsay.
Overcoming Challenges
Handling Market Volatility
The penny stock market can be highly volatile, with prices fluctuating rapidly. Stay calm and stick to your trading plan, even during turbulent times.
Managing Emotional Responses
Investing in penny stocks can evoke strong emotions, such as fear and greed. Keep emotions in check to make rational decisions.
Developing a Trading Plan
Setting Clear Goals and Targets
Define your investment goals and set realistic profit targets and exit strategies. Having a clear plan will help you stay focused and disciplined.
Sticking to Your Plan
Once you have a trading plan in place, stick to it. Avoid making impulsive decisions based on short-term market movements.
Tips for Penny Stock Investing
Start Small and Learn
Begin with a small amount of money to gain experience and understanding of penny stock trading before committing significant funds.
Be Patient and Avoid FOMO
Rome wasn't built in a day, and neither will your penny stock portfolio. Be patient and avoid the "fear of missing out" on hot tips.
Common Mistakes to Avoid
Chasing Unrealistic Gains
Avoid chasing after penny stocks that promise extraordinary returns without credible justification.
Ignoring Market Trends
Stay informed about market trends and adjust your investment strategy accordingly.
Conclusion
Investing in penny stocks can be an exciting and potentially rewarding venture, but it comes with risks. Thorough research, prudent risk management, and a well-defined trading plan are crucial for success. Always stay informed, keep learning, and avoid making impulsive decisions.
FAQs
Penny stocks are low-priced stocks of small companies, usually trading below $5 per share.
Are penny stocks a good investment for beginners?
While penny stocks can offer high returns, they are also riskier and require thorough research. Beginners should approach them with caution.
How much money should I invest in penny stocks?
Only invest what you can afford to lose, as penny stocks can be volatile and speculative.
Can I make a living trading penny stocks?
It is possible to make a living from penny stock trading, but it requires significant knowledge, experience, and risk management.
Where can I find reliable information about penny stocks?
Look for reputable financial websites, news outlets, and well-known analysts for reliable information about penny stocks.