Investing in the stock market can be a rewarding way to grow your wealth over the long term. However, the market is volatile and unpredictable, and it can be challenging to navigate a bearish market. A bearish market is characterized by falling stock prices, declining economic conditions, and pessimistic investor sentiment.
As an investor, it's essential to understand the causes of a bearish market and have a plan in place to navigate it successfully. In this article, we'll explore the strategies and tips for investors to navigate a bearish market.
What is a Bearish Market?
A bearish market, also known as a bear market, is a market in which stock prices are falling or expected to fall, typically over an extended period. This decline in stock prices can be due to various factors such as a slowing economy, political instability, and changes in government regulations.
Bearish markets are often characterized by high volatility, pessimistic investor sentiment, and a lack of confidence in the economy.
Causes of a Bearish Market
Several factors can cause a bearish market. Here are some of the common causes:
Economic slowdown or recession
Political instability or uncertainty
Trade tensions between countries
Changes in government regulations or policies
Overvaluation of stocks
Interest rate hikes by the Federal Reserve
Strategies for Navigating a Bearish Market
Navigating a bearish market can be challenging, but there are strategies that investors can use to protect their investments and potentially profit. Here are some of the strategies for navigating a bearish market:
Diversify your portfolio: One of the essential strategies for navigating a bearish market is to diversify your portfolio. This means investing in a mix of stocks, bonds, and other asset classes. Diversification can help to reduce the impact of a decline in one sector or asset class on your overall portfolio.
Consider defensive stocks: Defensive stocks are those that are less sensitive to market fluctuations and economic conditions. These include industries such as utilities, healthcare, and consumer staples. Investing in defensive stocks can help to protect your portfolio during a bearish market.
Invest in dividend-paying stocks: Dividend-paying stocks are those that pay a portion of their profits to shareholders in the form of dividends. These stocks can provide a steady stream of income during a bearish market, even if the stock price declines.
Use stop-loss orders: A stop-loss order is an order to sell a stock when it reaches a certain price. This can help to limit your losses during a bearish market and protect your portfolio.
Avoid panic selling: During a bearish market, it can be tempting to sell your stocks and cut your losses. However, panic selling can lead to significant losses and prevent you from potentially profiting from a market recovery. It's essential to have a long-term investment strategy and stick to it, even during periods of market volatility.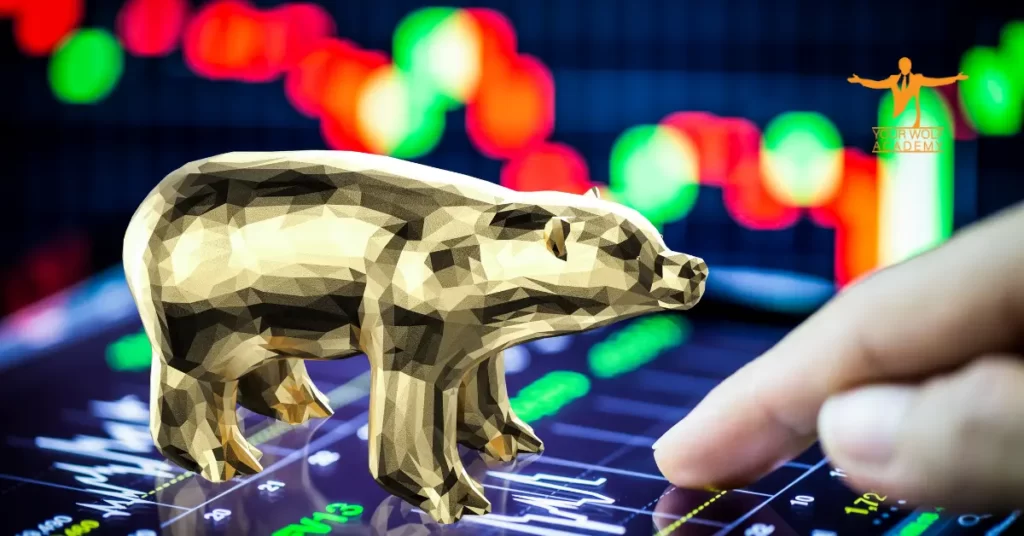 Tips for Navigating a Bearish Market
In addition to strategies, there are several tips that investors can use to navigate a bearish market successfully. Here are some of the tips:
Stay informed: Stay up to date on economic news, market trends, and company earnings reports. This can help you make informed investment decisions and adjust your portfolio as needed.
Keep a long-term perspective: A bearish market can be stressful, but it's important to keep a long-term perspective. Historically, the stock market has always recovered from downturns, and investors who stay invested have typically seen their portfolios recover and even grow in value over time.
Stay disciplined: Stick to your investment plan and avoid making impulsive decisions based on short-term market fluctuations. It's essential to remain disciplined and patient, even during a bearish market.
Look for opportunities: A bearish market can present opportunities for investors to buy stocks at a lower price. If you have cash on hand, consider investing in quality companies with a strong track record that have been hit hard by the market downturn.
Seek professional advice: If you're unsure how to navigate a bearish market, consider seeking the advice of a financial advisor. A professional can help you develop a long-term investment plan and provide guidance on how to navigate market volatility.
Conclusion
A bearish market can be a challenging time for investors, but with the right strategies and tips, you can navigate the market and potentially even profit. Diversifying your portfolio, investing in defensive stocks, and using stop-loss orders are just a few of the strategies you can use to protect your investments.
Staying informed, keeping a long-term perspective, and seeking professional advice are some of the tips that can help you navigate a bearish market successfully. Remember to remain disciplined and patient, and don't let short-term market fluctuations derail your long-term investment plan.
Your Wolf Academy offers a range of educational resources to help traders succeed, including free signals, technical analysis, and weekly webinars. Sign up today and get a recommendation for a regulated brokerage company that suits your needs.